Elastic Sewing – 
A Panty Sewing Trick That Gets You ✨PRO Results!
This is a shortened exert from the Rita Panty Sewing Pattern Booklet  (You Can Get The Rita Panty Pattern HERE)
When you design panties, sewing elastic can seem a little tricky because you need to stretch it slightly as you sew it on and pulling the elastic just the right amount all the way around the seam can be a worry for a beginner.
But you can get a consistent amount of stretch easily using this technique! We're going to use the example here of the waist opening on the Rita Panty Pattern (a panties design of my own).
You can also check out the How To Make Underwear page here for more on underwear sewing.
The trick is to precut your elastic to the right size and sew the ends together before attaching it to the waist opening on your panty pattern.
So first we measure the waist opening, then multiply it by 0.95 (this gives you a 5% reduction for stretch) and add a little to sew the ends together. We cut a piece of elastic this length.
The Rita pattern booklet will have all the measurements worked out for you – but as an example the size 10 waist opening is 31.5 inches and the elastic needed is 30 inches.
Now simply sew the ends together and you have the perfect sized piece of elastic to make panties!
And attaching it couldn't be simpler!
This is easily done by quartering your opening – folding in half one way, then the other, marking with pins…
…doing the same with the elastic…
…and then pinning the fabric and the elastic together at the pins.
With the elastic and fabric pinned together at four points, you can simply place one point under the sewing foot (removing the pin) and holding the next pin, pull the elastic slightly so the fabric underneath is taught, then sew!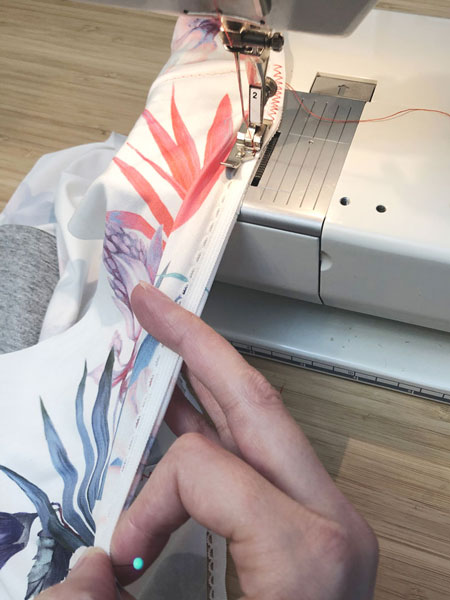 Do this all the way round with and you have a perfectly even amount of stretch all the way around your waist opening! Then just fold over the elasticated edge to the inside and sew again!
And you have your perfectly sewn panty elastic! How easy was that! And that's the hardest skill to master when learning how to make panties?