The 'About' Page
Meet Me & My Scooby Gang
Meet Scarlett
Hi I'm Scarlett and since 2009 I've been running CorsetTraining.net. I'm a 3rd generation seamstress from London and as you may have guessed, I specialize in corset making, specifically teaching others how to make corsets. I've been teaching corset making online for over 5 years now! I have a degree from Goldsmiths University, London in BA Fine Art & Art History, an obsession with buying fabric and a Fox Terrier sidekick called Layla (after the Eric Clapton song) who likes to rest her head on the sewing machine pedal. More on her below.
This is me!
CorsetTraining.net
I set up CorsetTraining.net as an informational and education site on Tight Lacing , Corset Making and more. Its purpose is to educate, entertain and inspire. I blog regularly about the corsets I'm making with lots of photos and I sell my corsetry course and sewing patterns on this website. Join me on my blog here or on Facebook & Twitter. If you want to contact me you can reach me at this email – Corsettraining'at'gmail.com
Some fun stuff about me that's not corset related – I have an addiction to learning new crafts and hobbies; everything from metalwork to pottery. I made my son a sword for his tenth birthday (properly, like with fire, an anvil and a large hammer). I traveled to Japan to eat firefly squid. I own a vintage Victorian top hat and a collection of waistcoats. I love snakes and I pet spiders. My hair changes colour on average once a month but it's mostly red or a red variant which is where I got the nickname Scarlett. I still listen to 90s skater punk music even though I've not been a teenager for over ten years now (weep) and the one and only skateboard I owned is still in my shed even though it's broken and I haven't used it for a similar length of time. There it is. In this picture. *nostalgic sigh*

The Scooby Gang
Say Cheese Guys!
Layla aka Vampire Dog
Official Mascot
Layla is our (somewhat) official mascot. She's my mums dog but visits occasionally. She used to sit under my sewing table and occasionally rest her head on the sewing machine pedal to make things more interesting for me while sewing. She is now 'Auntie Layla' to the pups and also goes by the alias 'Vampire Dog', check out her facebook page to find out why!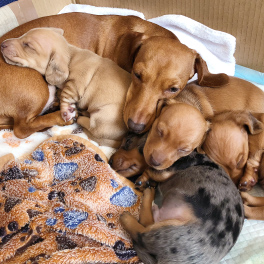 Nuka Cola & Co
Official Mascot (and guarder of the sewing room)
Nuka is my little sausage. She sits on my lap or the windowsill and borks at anything outside that may interrupt my sewing, ie. passers by, dogs, cats and the occasional menacing leaf. You'll see her and her pups cropping up on my social media and occasionally in my blogs depending on how much she felt like being in the way that day or doing something cute.
Recruiting
Pattern Drafter, Scaler & Maker
I'm always on the lookout for freelance corset makers, drafters and pattern producers to help with pattern production. So if you can do any or all of these things send me over some images of your work and your rates – corsettraining'at'gmail.com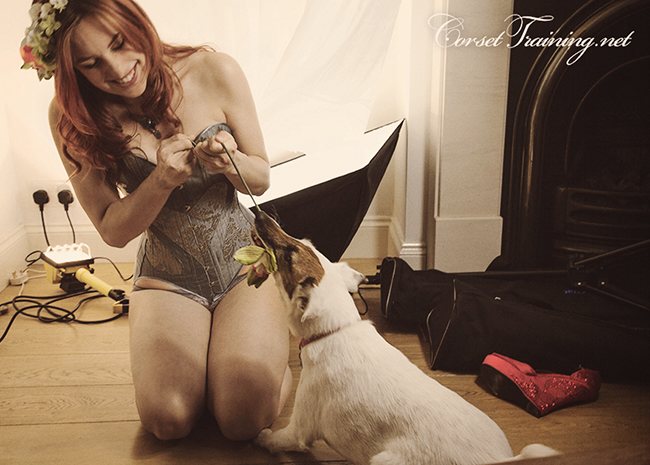 Contacting Us
If you need any support with corset making or have a question, some feedback, a picture of a corset you've made and would like to share or a suggestion – you can contact us via email directly: Corsettraining'at'gmail.com
Or write to me at:
19 Standard rd, Bexleyheath, Kent, DA6 8DP, UK