I've been asked a few questions about Mr Pearl and who he is. I wrote a blog post a while about Mr Pearl but I thought I'd quickly 'freshen up' the info as people wanted to know more about him as a person (he's a curious man to make a huge understatement!). Mr Pearl is a professional corset maker born in Brazil with and English father and a Dutch mother. He moved to London but now resides in Paris so he has experienced a wealth of different cultures.
Mr Pearl's real name is 'Mark Pullin' and he got his first taste of corsetry from his grandmother who he lived with from a young age. She used to let him help lace her up in her long line salmon pink corsets. Mr Pearl started corset training himself in his early 30′s and now has an 18 inch waist. This is the part I get most questions about – yes its real, no he's not been photoshopped. He wears his corset 23/7 and gradually got smaller and smaller over several years. This is corset training people
Mr Pearl taken by Ali Mahdavi, 1999
But his looks aside theres one thing and one thing only that makes mr pearl infamous in the fashion world, and that is his corsets!
Mr Pearl works for some of the largest names in fashion, from new designers like McQueen to timeless names such as Jean Paul Gautier. You can immediately see why when you examine his work. Here is a classic example of his 'poetry in fabric' -
Dita Von Teese wearing one of Mr Pearl's corsets. This one laces up from the crotch, up the back and through an attached hood.
"My work is not about being fashionable. I do not follow fashion at all. I'm interested in an ideal, a kind of expression of elegance, which really has nothing to do with fashion."
LINESPACE
The infamous Mr Pearl has an 18-inch corseted waist and wears his corset 24 hours a day, 7 days a week except to bath. But his work as a 'Corsetier' or maker of corsets is what really skyrocketed him to fame and glory.
LINESPACE
Mr Pearl is arguably the most amazing Corsetier in existence, his works of art can take several months each to construct. He has made corsets for designers such as Jean Paul Gaultier, Thierry Mugler, John Galliano, Chloe, Alexander McQueen, Antonio Berardi and Christian Lacroix. And for famous ladies like Kylie Minogue, Dita Von Tease and Jerry Hall.
LINESPACE
"It was Mr Pearl who laced Posh Spice into her wasp-waisted Vera Wang wedding dress, created Mugler's more extreme and infamous metal biker corsets, and more recently tied Sophie Dahl into the ballet-shoe pink corset dress of Gaultier's spring/summer 2001 collection."
The Independent, 24th Nov 2001, Forrest, Emma E
LINESPACE
The infamous Mr Pearl is the alter ego of Mark Pullin, he started tightlacing at age 30, after seeing a photograph of Fakir Musafar:
LINESPACE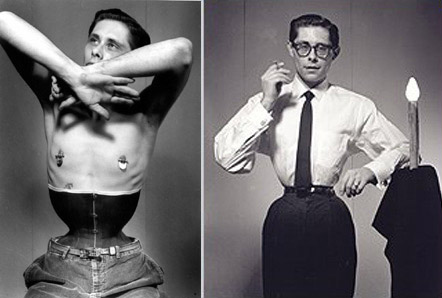 Fakir Musafar
Fakir Musafar's artistic self-portraiture - 'nineteen inches' 1959 and 'perfect gentleman' also 1959
LINESPACE
Mark Pullin was born in South Africa, he was the eldest son of an English toolmaker, Neil, and a half-English, half-Dutch mother, Yvette. He has a brother , Grant, a motorcycle mechanic. His parents split up when he was three, when he moved in with his grandparents Hetty and Ruben Searle.
LINESPACE
"My grandmother wore corsets so I became fascinated by them," he said. "They were always salmon-pink. She used to let me lace her up. It took a long time as there were lots of eyelets and laces, but it was a great treat."
Mail on Sunday, 03 April 2005,  Collcutt, Deborah
Pressure to conform led to a 2 year marriage to a South African actress, after which he moved to London, creating his alter-ego Mr Pearl and setting up shop as a corsetier in 1994. He moved to Paris in 2002 where he now works in the romantic setting behind Notre Dame Cathedral, designing unique pieces for couture houses. He refuses to use any form of modern technology, and their are few photos of him or his work – outside of catwalk and fashion shoots that is.
LINESPACE
LINESPACE
An exquisit example of Mr Pearl's hand sewn sequined Corsets:
LINESPACE
LINESPACE
Mr Pearl's

Metal 'Biker' Corsets 

for

Thierry Mugler

, later worn by Beyonce:
LINESPACE
LINESPACE
LINESPACE
The Sophie Dahl
Gaultier dress

spring/summer 2010 made by Mr Pearl:
LINESPACE
And Finally,

Dita Von Tease

in one of her personal Mr Pearl corsets, (and I think we all agree she's a lucky lucky girl):
"Corsetry is the deepest, most intimate, most enhancing possibility physically and I'm fascinated by this. Corsetry presents endless, almost unobtainable, possibilities, it could always be tighter, more beautiful, longer in the front. The limit is physical – outward appearances are endless."
Mr Pe

Dita in Gaultier's a/w 2010 catwalk