"My work is not about being fashionable. I do not follow fashion at all. I'm interested in an ideal, a kind of expression of elegance, which really has nothing to do with fashion."
LINESPACE
The infamous Mr Pearl has an 18-inch corseted waist and wears his corset 24 hours a day, 7 days a week except to bath. But his work as a 'Corsetier' or maker of corsets is what really skyrocketed him to fame and glory.
LINESPACE
Mr Pearl is arguably the most amazing Corsetier in existence, his works of art can take several months each to construct. He has made corsets for designers such as Jean Paul Gaultier, Thierry Mugler, John Galliano, Chloe, Alexander McQueen, Antonio Berardi and Christian Lacroix. And for famous ladies like Kylie Minogue, Dita Von Tease and Jerry Hall.
LINESPACE
"It was Mr Pearl who laced Posh Spice into her wasp-waisted Vera Wang wedding dress, created Mugler's more extreme and infamous metal biker corsets, and more recently tied Sophie Dahl into the ballet-shoe pink corset dress of Gaultier's spring/summer 2001 collection."
The Independent, 24th Nov 2001, Forrest, Emma E
LINESPACE
The infamous Mr Pearl is the alter ego of Mark Pullin, he started tightlacing at age 30, after seeing a photograph of Fakir Musafar:
LINESPACE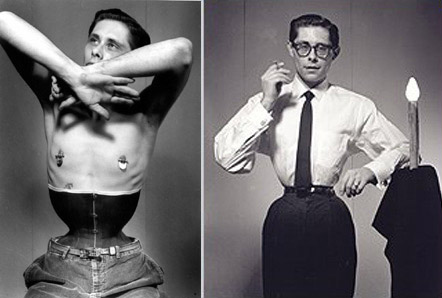 Fakir Musafar
Fakir Musafar's artistic self-portraiture - 'nineteen inches' 1959 and 'perfect gentleman' also 1959
LINESPACE
Mark Pullin was born in South Africa, he was the eldest son of an English toolmaker, Neil, and a half-English, half-Dutch mother, Yvette. He has a brother , Grant, a motorcycle mechanic. His parents split up when he was three, when he moved in with his grandparents Hetty and Ruben Searle.
LINESPACE
"My grandmother wore corsets so I became fascinated by them," he said. "They were always salmon-pink. She used to let me lace her up. It took a long time as there were lots of eyelets and laces, but it was a great treat."
Mail on Sunday, 03 April 2005,  Collcutt, Deborah
Pressure to conform led to a 2 year marriage to a South African actress, after which he moved to London, creating his alter-ego Mr Pearl and setting up shop as a corsetier in 1994. He moved to Paris in 2002 where he now works in the romantic setting behind Notre Dame Cathedral, designing unique pieces for couture houses. He refuses to use any form of modern technology, and their are few photos of him or his work – outside of catwalk and fashion shoots that is.
LINESPACE
LINESPACE
An exquisit example of Mr Pearl's hand sewn sequined Corsets:
LINESPACE
LINESPACE
Mr Pearl's

Metal 'Biker' Corsets 

for

Thierry Mugler

, later worn by Beyonce:
LINESPACE
LINESPACE
LINESPACE
The Sophie Dahl
Gaultier dress

spring/summer 2010 made by Mr Pearl:
LINESPACE
And Finally,

Dita Von Tease

in one of her personal Mr Pearl corsets, (and I think we all agree she's a lucky lucky girl):
"Corsetry is the deepest, most intimate, most enhancing possibility physically and I'm fascinated by this. Corsetry presents endless, almost unobtainable, possibilities, it could always be tighter, more beautiful, longer in the front. The limit is physical – outward appearances are endless."
Mr Pe

Dita in Gaultier's a/w 2010 catwalk
Corset training, also known as waist training, figure training and the more familiar tightlacing, is a method of body modification. The waist (primarily) and the torso are sculpted using external pressure produced by a tightly laced corset. The waist and surrounding area are very gradually reduced over a period of months as the body slowly conforms to the shape of the corset. The wearer should feel comfortable at all times and any discomfort is a sign that the corset is too tight. As a general rule it should feel like a tight hug but not a breathless squeeze. It is very important to gradually progress with reduction as sudden extreme reductions can cause great discomfort, fainting, indigestion, muscle spasms and cramps (I speak from experience!) and breathlessness. Let me dispel the myth that corset training involves suffering on any level, wearing a corset should feel comfortable, unrestrictive and downright sexy! It's common to forget you're wearing one (unless you pass a mirror and get a glimpse of those accentuated curves of yours!).
Now as to time scale, reduction can be affected by fat mass and abdominal muscle strength as both lengthen the process, but in general an inch a month is the norm up to around six inches, after which each extra inch can take a whole year to achieve. The corset also needs to be worn for at least 12 hours a day, with most dedicated tightlacers practising a 23/7 rule – only taking the corset off to bathe and only loosening it to sleep, but its up to you to decide how far to take it, if your not enjoying it ease up. I've covered correct methods of lacing etc in other posts.
It's also a common assumption (or just wishful thinking) that corset training for a few months can permanently reduce your waist size. Unfortunately it can't, although it can be used as a dieting tool (which I'll go into further in later posts) and worn for a number of years will keep you thinner than you naturally would have been had you never worn a corset. However even dedicated tightlacers with years of waist training under their belt (bad pun) report that after only an hour unlaced their waists have expanded to a degree. This is because the soft tissues have only been displaced and not eradicated. Corset training does however have a semi permanent effect on the shape of your rib cage, which sounds scarier than it is, promise! The ribs are very flexible and will take on the conical shape of the corset over time. They will slowly return to normal shape if corset training is ceased completely, but it is easy to maintain rib shape with reduced corset wear. As for health issues, no medical evidence has been found to prove that even the extreme corset training of the Victorian era had negative health effects for those that practised it – and I've looked good and hard for it. The internal organs are moved around to a large degree but still function perfectly, in fact they are put under greater strain during pregnancy and this may be why the female body suffers no ill effects from corset training. I'll go into the physical effects in detail in a later post.
Other topics I'll be covering are: making corsets, corset dresses, burlesque corsets and Cathie Jung and other famous tightlacers. ©
© All website content, illustrations and photos are copyright of the website owner, it is illegal to republish this material without consent!