Your body will change shape instantly the moment you put on a proper corset training corset and tighten the laces. This is because the corset will displace the fat around your middle and hold your body in the shape of the constructed garment, so you can literally design your own body shape. However your body will return to its natural state once you take off the corset. Yes its a shame it can't just stay put.
So what, if any are the permanent effects that can be achieved with a corset and how long do they take to make permanent?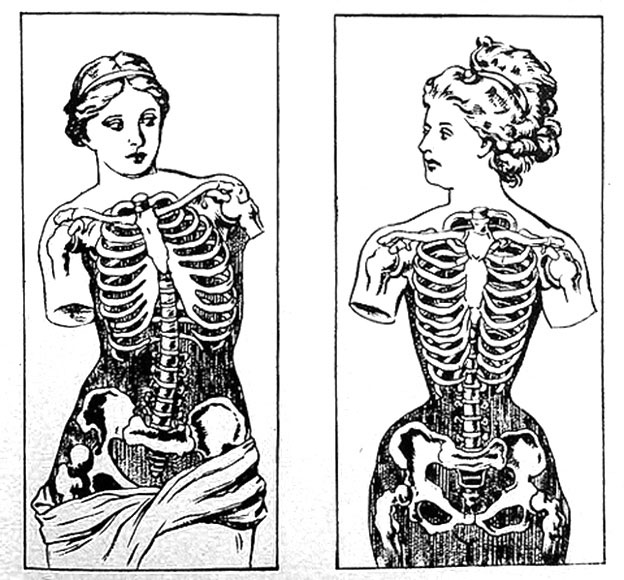 Rib re-shaping
The only permanent change you can make to your body using corset training is to the lower ribs, which will compress over time to follow the shape of your corset. For this you'll need a conical corset rather than one with an hour glass shape as these types leave room for the ribcage. Click here for more details on corset training shapes. The above and below pictures are a little extreme as they are copies from historic drawings, but it gives you an idea of the corset training before and after effects. The bottom floating ribs are easily reshaped as they're not attached at the front. But it will still take a good 6 months to make a significant difference.
Internal Organs
If you plan on tight lacing to the extreme, your internal organs will be affected. The corset will restrict your waist, causing your organs to shift. This does place added pressure on your organs but this is similar to the pressure a woman's body goes through during pregnancy. The female body is designed to take the added pressure and organ movement but if you plan on undertaking extreme tight lacing you should do so under your doctors supervision.
Body shape
The fact that the corset training before and after effects are not permanent and your body shape is merely held in position until the corset is removed, does not mean that corset training won't have some effect on your body shape over time. We are talking years though, rather than months. The ribs are a solid bone structure so are unlikely to fully revert back to their original position, soft tissue however, will tend to expand back to its original shape. You would be best advised to corset train as a way of maintaining a slender figure rather than obtaining it, ie someone who starts to tight lace as a young woman will keep her figure thin even as an older woman. Thats why in Victorian times women where corseted as children. The body would form around the corset shape allowing them to maintain the waist size of a young teen. If you do waist train down to a tiny size and maintain it for several years before stopping, you'll probably remain a great deal thinner than you would have been for several years. However there are reports of it taking under a year for the body to return to its previous size as, just like after pregnancy, the torso seems to remember its natural state. This really does vary from one person to the next though. Corset training really is more a way of life than an alternative to the surgeons knife or a healthy lifestyle. It's no quick fix and should be undertaken for the joy of tight lacing and with a 'long term' mindset.